Planning partagé
Himura95 - 14 November 2022
Category : Site

Le site dispose désormais d'un planning partagé entre tous les membres du dojo : Ici
Vous pouvez parcourir le calendrier avec les boutons à gauche et à droite et ajouter des évènements avec le bouton du milieu pour indiquer les prochains tournois, vos disponibilités pour un entrainement sur Fightcade/Parsec/Breakers Collection, etc...

The site now has a shared schedule for all dojo members : Here
You can browse the calendar with the buttons on the left and right and add events with the middle button to indicate upcoming tournaments, your availability for training on Fightcade/Parsec/Breakers Collection, etc...

Die Seite verfügt nun über einen Terminplan, der von allen Mitgliedern des Dojos geteilt wird : Hier
Sie können den Kalender mit den Schaltflächen links und rechts durchblättern und mit der mittleren Schaltfläche Ereignisse hinzufügen, um anstehende Turniere, Ihre Verfügbarkeit für ein Training zu Fightcade/Parsec/Breakers Collection usw. anzugeben.

O site tem agora um calendário partilhado para todos os membros do dojo : Aqui
Pode navegar no calendário com os botões à esquerda e à direita e adicionar eventos com o botão do meio para indicar os próximos torneios, a sua disponibilidade para treinar em Fightcade/Parsec/Breakers Collection, etc...

Il sito ha ora un calendario condiviso per tutti i membri del dojo : Qui
Potete sfogliare il calendario con i pulsanti a sinistra e a destra e aggiungere eventi con il pulsante centrale per indicare i prossimi tornei, la vostra disponibilità per gli allenamenti su Fightcade/Parsec/Breakers Collection, ecc...

El sitio ahora tiene un horario compartido para todos los miembros del dojo : Aquí
Puedes navegar por el calendario con los botones de la izquierda y la derecha y añadir eventos con el botón del medio para indicar los próximos torneos, tu disponibilidad para entrenar en Fightcade/Parsec/Breakers Collection, etc.

사이트에는 이제 도장의 모든 구성원이 공유하는 일정이 있습니다 . 여기
왼쪽 및 오른쪽 버튼으로 캘린더를 탐색하고 중간 버튼으로 이벤트를 추가하여 다음 토너먼트, Fightcade/Parsec/Breakers Collection 교육 가능 여부 등을 표시할 수 있습니다.

Sitede artık tüm dojo üyeleri için ortak bir program var : Burada
Soldaki ve sağdaki düğmelerle takvime göz atabilir ve ortadaki düğmeyle yaklaşan turnuvaları, Fightcade/Parsec/Breakers Collection'da eğitim için uygunluğunuzu vb. belirtmek için etkinlik ekleyebilirsiniz.

该网站现在有一个供所有道场成员共享的时间表 :这里
你可以用左边和右边的按钮浏览日历,用中间的按钮添加事件,以表明即将举行的锦标赛,你是否可以在Fightcade/Parsec/Breakers Collection上进行训练,等等。
道場生全員でスケジュールを共有できるようになりました : こちら
左右のボタンでカレンダーを閲覧し、中央のボタンでイベントを追加して、今後のトーナメントやFightcade/Parsec/Breakers Collectionでのトレーニングが可能かなどを表示することができます。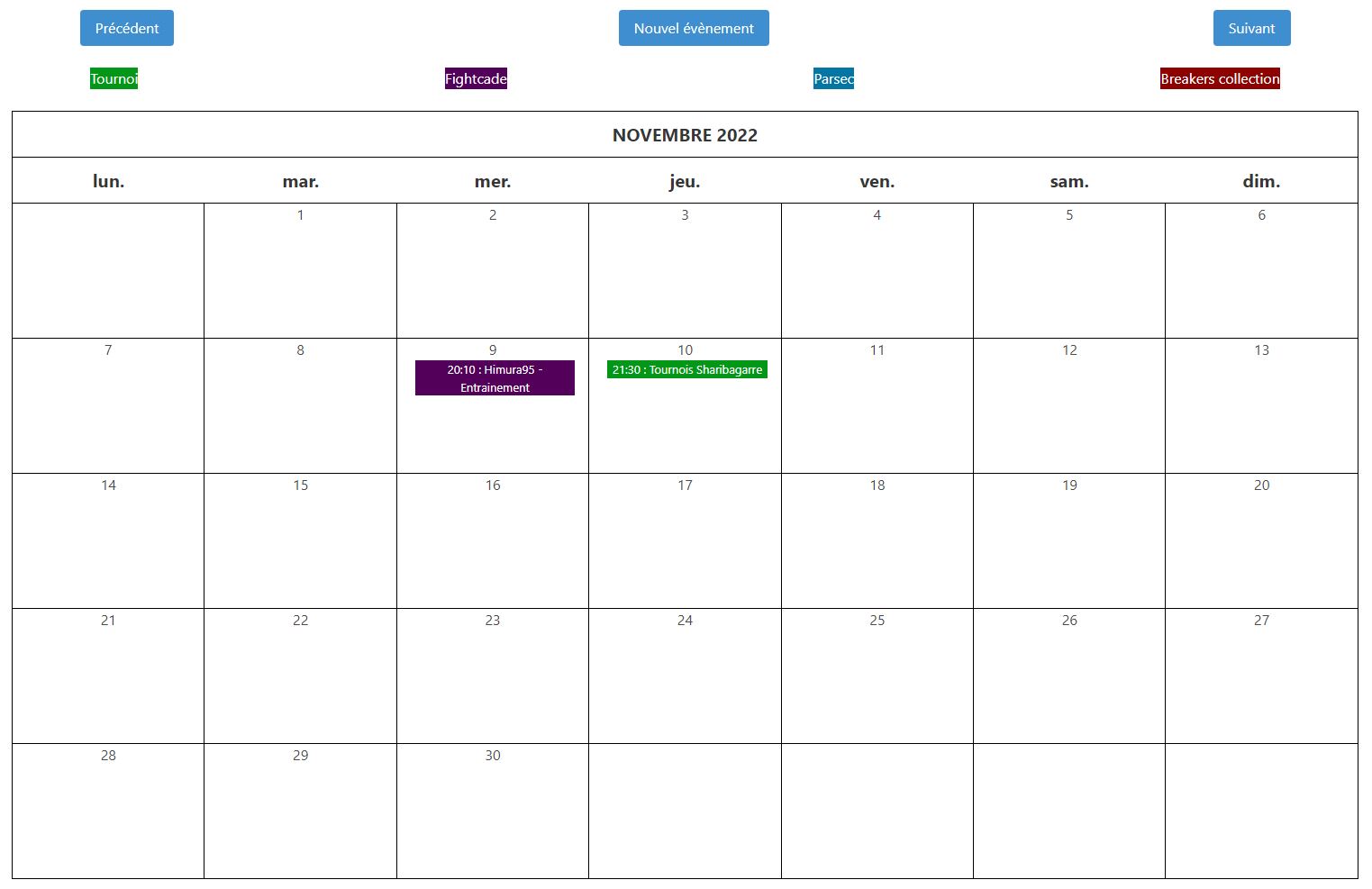 Source : https://breakersdojo.fr/