Condor Heads
Condor is a Native American who does not wear trousers. Instead, he wears only pant legs and underwear. Normally peaceful, he has recently lost his temper and is only fighting to save his homeland from the evil Bai-Hu.
Special moves :
Tomahawk Jack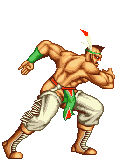 ou une autre combinaison de 3 boutons pressés simultanément.
Un coup étonnant qui annule les projectiles comme la main verte de Zangief, qui a une priorité impressionnante surtout contre les attaques aériennes, et semble avoir une sorte d'invulnérabilité. Il n'est pas très efficace contre les adversaires au sol, mais il peut parfois les prendre au dépourvu.
Anti Air Tamahoo peut être suivi de Super pour des dégâts massifs et un knockdown favorable.
Tamahoo déplace Condor légèrement vers l'avant en cas de whiff, de coup et lorsqu'il annule les projectiles.
Sky Bridge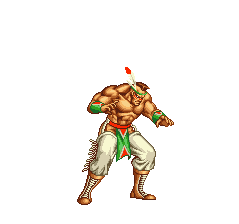 Frappe l'adversaire en l'air, l'attrape et le blesse. La version HK atteint plus loin mais a un startup plus long. Indispensable pour les combos.
Moonlight Slam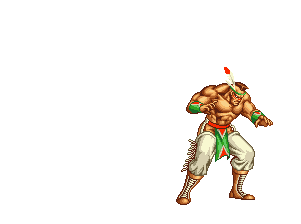 S'il est fait hors de portée, il affichera une animation "whiff". Condor fait un piledriver tournant sur son adversaire, le blessant gravement ! Un excellent coup pour casser avec, fait beaucoup de dégâts et a une portée impressionnante.
Grand Buffalo Horn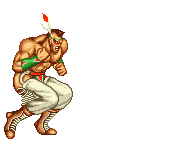 La force du coup de pied détermine la portée du coup de pied glissé. Renverse normalement l'adversaire à moins qu'il ne soit touché par la toute dernière partie du coup de pied glissé. Passe sous les projectiles et frappe bas.
Super Moves :
Atlas Rock Buster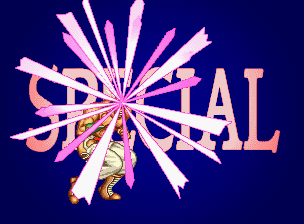 Super génial, se connecte après un Tamahoo anti-aérien ou un Good Throw. A une petite fenêtre d'invulnérabilité. Le super complet se connectera contre les adversaires aériens. Le premier coup a une portée géante et s'il se connecte, le super complet le fera.
Moonlight Shake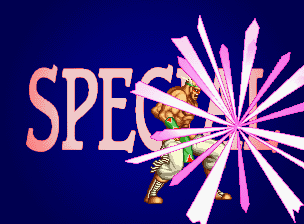 Un super grab. C'est un bon coup de rupture. Il ne semble pas avoir d'animation de whiff donc vous ne pouvez pas gaspiller de mètre en spamming pour lui. Si elle touche, elle fera beaucoup de dégâts et vous prendra un super mètre. Good Throw en Tamahoo Super fait autant ou plus de dégâts que celui-ci, mais ce mouvement est toujours bon. Bonne projection a beaucoup moins de portée que Grab Super.